I-CAR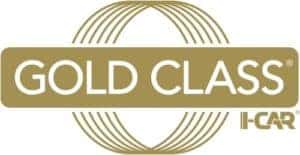 I-Car Gold Class Certification
---
Standing for Inter-Industry Conference on Auto Collision Repair is a non-profit international organization founded in 1979 and oversees advanced training and certification in the automotive repair industry. Their goals are to ensure that automotive technicians are thoroughly trained and provide safe, effective, and high-quality automotive repairs. They train, on average, over 90,000 students every year, representing roughly 14,000 businesses.
What Is I-Car Gold Class?
When a collision repair business is Gold Class certified, it shows that they meet very high-performance standards as defined by I-CAR. To be certified, a shop has to meet the certification standards and undergo continuous training. Technicians are required to complete several classes per year in several different areas of automotive repair and technology. The hard work acquiring Gold Certification involves shops that achieve it are often proud of the accomplishment and prominently display their certification on site.
Certifications Matter
When an auto body shop is certified Gold Class by I-CAR, it means they are among the top automotive repair shops in the nation as only 10 percent of automotive repair shops or collision centers meet the high standards required to complete Gold Class certification. This means you can trust the work you get performed on your automobile, work you can depend on, and work that will meet high standards of repair quality.
When selecting a shop in Oakwood, you have options; however, you should always use a certified shop. When you get repair work done by a non-certified shop, you don't know the quality of the work you will receive. When you take your car to a Gold Class shop, you know that all their technicians are fully certified and use the newest automotive repair technology and certified OEM parts. With a certified shop, you know they won't cut corners on part or repair quality.
Finding The Best Shop
---
At Carriage Collision Center, we know you have many automotive repair choices in Gainesville and nearby communities such as Flowery Branch; however, when you need repairs, you want to go with a shop you can trust. We are an I-CAR Gold certified shop and are committed to being on the cutting edge of automotive repair and maintenance. Don't leave your repairs to chance or on the value of a casual suggestion from a friend; at Carriage Collision Center, we know our work will meet the high standards you deserve.
Schedule An Estimate
Dealership Info

Phone Numbers:

Collision Center Hours:

Mon – Fri

8:00 AM – 6:00 PM

Sat

9:00 AM – 12:00 PM

Sun

9:00 AM – 12:00 PM